Turn a mind map into a presentation
Create a presentation
Click on the file list menu and select Presenter to enter the presentation mode.
On the top toolbar, you will be able to see the following options:
Undo/Redo
Slide list
Play Presentation
Insert Slide
Delete Slide

Back to map editor
Info
A slide is any topic or subtopic that turns into a single page of the presentation.
You will have default slides containing your central topic and the main topics that branch out of it.
Add a slide
You can use the "+" button from the top toolbar.

Use the SHIFT + mouse drag shortcut.
Add or remove topics from a slide
After you created a slide, you can add or remove a topic by pressing CTRL from your keyboard and then selecting it.

Use the Context menu on the slide.
Delete a Slide
Use the Context menu available on each slide.
Use the Delete button from the toolbar.

Use the DELETE button on your keyboard.
Arrange Slides
You can arrange your slides by dragging them in the Slide list: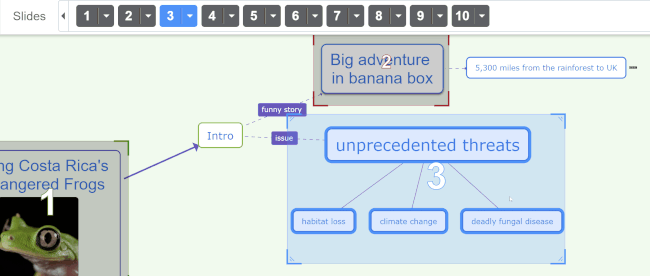 Present Topics Collapsed
If the main topic is part of the presentation but some of its subtopics should be left out, select Present Topics Collapsed from Slides Context Menu.

The subtopics (children) that are left outside the slide selection will be viewed as collapsed.
Resize Slides
Drag the corners of each slide to resize it. As you cover topics, they will be included in the selected slide.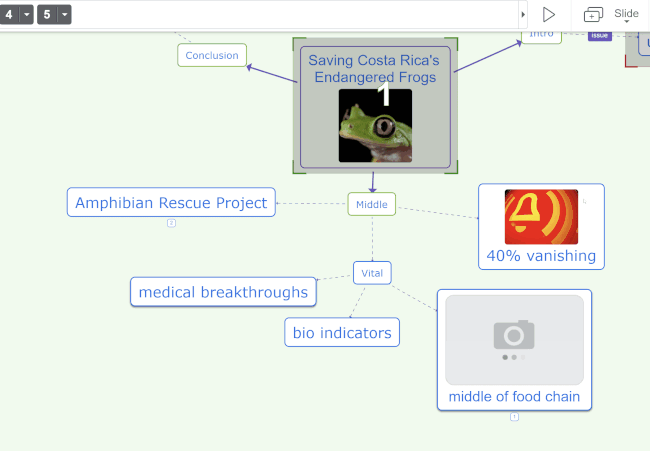 Playing the Presentation
Visualize how your final presentation will look like by entering the Play Mode. Click on Play (1) or press F5 from your keyboard.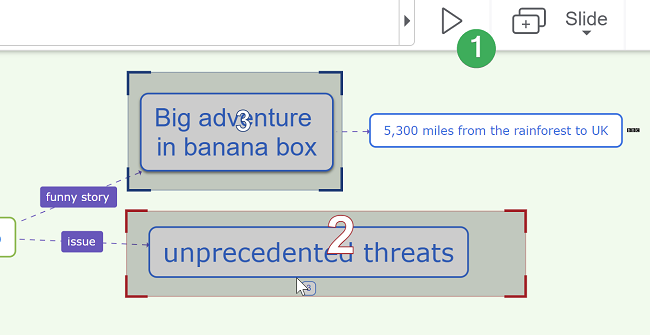 Hide presentation in View mode
Click on the file list menu on the top left corner and select Hide presentation. The presentation will not be shown when the map is in View mode.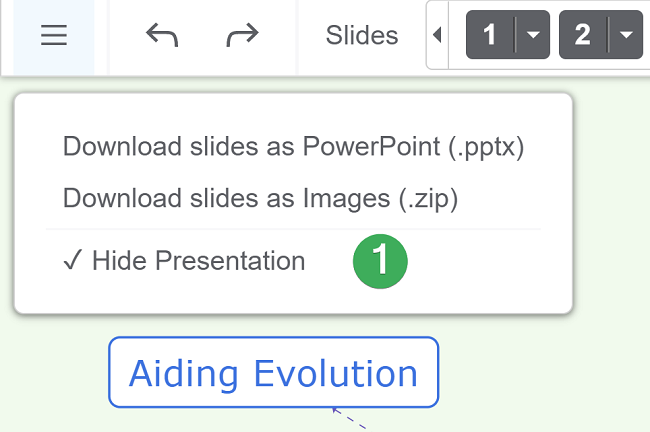 Download the Presentation
Click on the file list menu on the top left corner to download it as a PowerPoint presentation (1) or to download each slide as a separate image (2):